Introduction
Well, for the non-dutch understanding people it means the Black (motor) cross. (not the crucifix kind).
It goes back to 1997 for fans of motor cross, everybody was a participant and you didn't need to ride a bike.
There were 350 participants and a 1000 visitors.
The 2010 edition had 148.000 visitors and was way more than motorcross (eventhough thats still an essential part of it).
It was the first time for me and was a unique experience, its well known for the 'Achterhoekse' mentality, which is just being at ease and having a great time.
Journey
Well... this was our own fault, i went with my sister by bike and i live roughly 30 kilometers from the terrain.
We knew it was gonna get rough on the legs but we didn't care a whole bunch.
We went through miles of forrest which was amazing, beautiful scenery and not a factory or house in sight.
All in all, the way there took 2.5 hours.
Arrival
It was a straight up mess, we were guided through roads which were meant for emergency services only.
That was actually a good thing, since otherwise we'd have to travel for a mile or so to get around.
Speaking from a bicycle perspective the parking was hell, one big field where you put your bike.
And with that many visitors you really need to remember where you put your bike, if you forget the return journey will take much longer searching for it.
After we parked our bicycles in a ditch and remembered the location we started walking towards the entrance.
Big arches arose, showed our entrance ticket (20 euro's if you preordered, or 25 euro when you buy on the spot), and walked in.
Immediatly on the right was the "Metalweide", it was one of the places we came for.
There were several stages from party music, to pop, to reggae, you name it and its there.
Music
The band line!
The following metal bands played on saturday (which was the day we came).
12:30 - 13:30 Kudramata

13:45 - 14:30 ReVamp

15:00 - 16:00 Sonic Syndicate

16:30 - 17:30 Forbidden

18:00 - 19:00 Devil Driver

19:30 - 20:30 Paradise Lost

21:00 - 22:00 Jon Olivia's Pain

22:30 - 23:30 Meshuggah

24:00 - 01:00 Kamelot
I didn't see all of them since we went to see some other bands aswell, but most of the above are bands i can review and tell an opinion about!
Kudramata - Missed due to late arrival time.
ReVamp - Semi-missed only saw/heard the last 2 songs
Sonic Syndicate - Watched
Forbidden - Watched
Devil Driver - Watched
Paradise Lost - Watched
Jon Olivia's Pain - Missed
Meshuggah - Missed
Kamelot - Watched
ReVamp
If you do not know ReVamp, there is a chance you'll know the previous band of which they formed 'After Forever'.
As i was a big fan of after forever (saw them live about 8 times) i had to see how they were doing in the new band.
The lead singer Floor Janssen did a good job to entertain the people that just arrived.
The public was enthousiastic given notice of that they were playing so soon and people still needed some ''getting into the mood'', or at least i did.
At first i was a bit affraid looking at their logo.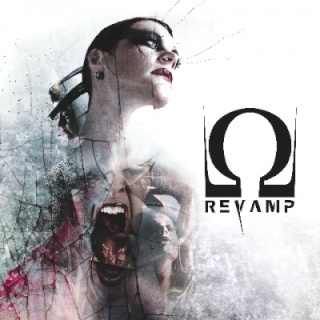 This looked like it had a high marilyn manson flavour which fortunatly it didn't (cann't stand that guy).
But those fears soon dissapeared when they started playing.
Fast upbeat songs with a good voice and entertaining to look at, that promised something for the rest of the day!
It is hard to grade the band since i was only around for the last 2 songs but if i had to say anything based on those, i'm giving the thumbs up, great performance and lots of horns rising into the air.
Official ReVamp website
Sonic Syndicate
All i can say is wow, never really gotten into them since its not really my first taste of music (soilwork / in flames) but was ready to give anything a go.
When they lowered the banner of ReVamp it took around 10/15 minutes before the banner of sonic syndicate arose.
It looked quite impressive with the logo and what looked like a burning city on the background.
Music wise it was something between soilwork and in flames, rough music with the mixture of clean and screaming vocals.
I wish i had more knowledge and could tell you with what songs they started and with what they ended, but i don't.
And that doesn't even matter since i'll be able to in a very short time, i did caught some titles like 'Revolution baby' and 'Burn this city'.
The group consisted out of 2 singers, 1 very beautiful female bassplayer if i might say, 2 guitar players and 1 drummer and gave the most energetic performance of the entire day.
The entire crowd was jumping up and down, circle pits were formed and the singers knew how to entertain them.
A funny detail was that they congratulated holland on being second in the world cup, and that their home country (Sweden) didn't even make it in the play-offs.
A quote following the congratulations 'All Sweden got is a king thats good for nothing, but occasionally we make some good music'.
All in all it displayed the 'anarchy' of the group which helped the show for the better.
Will definatly see these guys again, eventhough i'm not a fan of the first kind, but definatly one of the best bands live.
Funny detail to add:
I caught the drumstick on this one!!!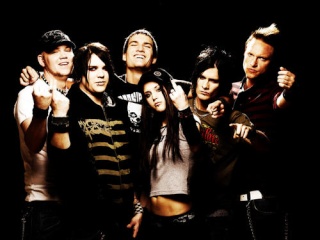 Official myspace
Forbidden
Heard the name before, but never really listened to them for as far as i can remember.
They got on stage and all looked like they just stepped of from their harleys.
Big hairy man with instruments, gotta love it.
They didn't play all that bad, but they had the bad luck to go right after sonic syndicate.
Not much energy except a few stage walks and the occasional 'Fuck' screaming'.
Normally i wouldn't even notice, but now it was apparent.
But that didn't stop the wow-factor at some point, the big hairy man holding the guitar gave away an amazing solo on almost every song and the respect grew with lots of screaming whenever he got to the point of solo-ing.
The music was quite brutal with the voice varying from low grunts to (really) high pitched screams.
Apparently they recently lost a band member and made a tribute song which in my opinion wasn't as good as the others but the chances are that if i listened to it not standing 1 meter from the humongous amplifiers i'd like it.
It was also the only band to do a tribute to Ronnie James Dio which won the crowd over even more.
Again, i don't know any of their songs but its worth spending some time listening to their songs on youtube to hear it a bit better.
Official myspace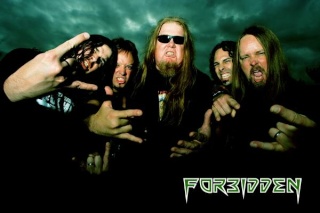 Devil Driver
The American band which was quite a big name apperantly.
Normally I try to avoid American metal bands since well... America has no good metal bands.
I'll have to rethink my opinion, it was not my taste but the show was amazing. (there were several american metal bands)
Don't think i've heard anyone with a higher 'fuck per minute' rating ever before.
The singer was really looking into the crowd and making contact with as much individuals as he could.
He also said 'You should look in the mirror everyday and say fuck you the the rest of the world', and after he said fuck you to the audience a couple of times, the audience was starting to say it back.
At that point he was a bit milder on that issue.
A funny side not was that my sister (who isn't really into metal and stood out with the color light blue and white) responded on that call and he looked my sis in the eye and smiled big time with the sign of having eye contact with her (the V sign with the fingers from his eyes to her).
That kinda showed that he was a good dude and not all that bad ass as he pretended to be.
Live these guys absolutely rock, but probably will not buy their CD.
Also, the circle pits made during this band were huge, 20 meters in diameter of people running, screaming and pushing.
They gave away a great show and are worth it to see live.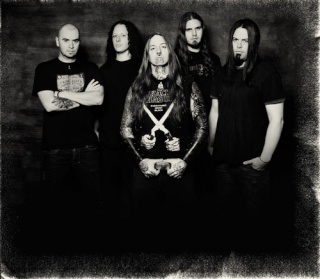 Devil Driver official webpage
Paradise Lost
This was one of 2 bands i particularly wanted to see, quite a big fan of them.
They came rather mild on stage and unfortunatly it stayed that way.
But with their kind of music i guess its not possible to move a lot (quite depressing music).
Musicwise they rocked my socks off, great strong emotional songs, but unfortunatly i got the impression it was impossible to 'please' the singer as he was just standing put on 1 place.
It also kinda looked as though he was keeping the 'i don't give a fuck'-attitude whilst it seemed as it doesn't come natural to him.
To give an example, when he band started up he was about to introduce 2 bandmembers and i quote 'These are the 2 bandmember and erhm... a well, not bothered'.
It could be a succes but it didn't come natural to him and looked quite forced as he said it.
But then again, the music was great and eventhough there was not so much energy as with the previous and later ones i'm very glad i got to see them live.
If you do not know them yet, start listening to some of the songs, they are amazing.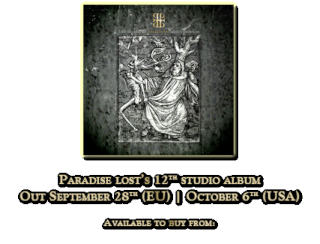 Official webpage
Kamelot
You don't know Kamelot? Shame on you!!
These guys have been around since 1991 and pack a punch in the progressive metal / power metal scene.
It was the last act of the night and to be honest, i was tired as (to stay in the mood) fuck, and my energy was drained by the prospect of a very long return journey.
At this point in time there were a lot of drunk people which i cann't stand when i'm sober.
But nonetheless, this was the first and foremost band i wanted to see, and i will see them through to the end!
It was dark and everyone entered the stage but the singer.
They started playing and on the right times there were gigantic fireballs coming from roughly 9 places.
After about 3 minutes the singer came on stage and wow... what an appearence that was.
He was wearing some kind of coat which was amazing.
If medieval times had modern technology this would be the kind of coat they'd give to kings.
It was a very impressive entrance and you could feel that someone important entered the stage.
Performing great songs the singer kept looking into the audience, from a sitting position, to finding the highest place to stand ontop and look over (what felt like) 'his minions' in a respectful way.
The mix of awesome solo's, great shows, big balls of fire and the singer to top things off it was definatly a main act.
Will see these guys again, that i can tell for sure!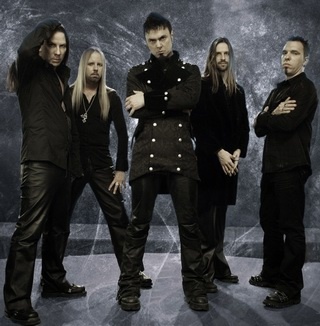 Kamelot official site
Atmosphere
This was the best part of all the experience, since it was a festival for people liking ever kind of music metal was just the small subculture.
It took
no
effort at all to stand against the fences holding the public back, so i saw every band from the first row, amazing!
There was no fighting and like with all shows i've been in, if you are reggae you will be treated the same as if you are the trve kind.
The mosh/circle pits where also friendly, of course a lot of pushing around and running, but as soon as someone fell they were helped up (the way it should be).
Later in the evening however it was still very friendly but i could notice that people were getting drunk and that was a bit of a downer (since i wasn't).
Festival accomodations & prices
There were plenty of places to get food / drinks and go to the bathroom.
What we didn't know was that everything was handled with special coins what we had to get first.
The price per coin is a bit over 2 euro's.
Just to give an impression, these were the prices of some items:
0.5L Water: 1.5 coins (you could break them in half)
Cup of beer(0.2L): 1 coin,
2x toilet: 0.5 coin.
On every corner there was something to buy so we were good on that.
The prices are a bit steep, but i guess that compensates for the low entree fee.
Return journey
Ow... hehe hehe... yes we did get home... but we cycled the wrong way.
It wasn't fun to go biking 40 km at 1:30 AM through streets that had no lighting at all for miles.
But as i said, we drove the wrong way and ended up adding approx 5 km to the journey.
We stopped several times to smoke a cigarette and at gas stations for some drinks and food.
I can talk about this for another page or so, but i'll give you the short version.
The return journey took
3.5
hours and we were home at a bit over 5 AM.
The left leg hit the bed and before the right one was in i was gone.
I still have trophies to remember the day by, the best one is the drumstick from sonic syndicate and a non-used coin.
Conclusion
Great festival, i'm sure i have left out tons of stuff to say about the humor they incorporated into the festival.
There were signs everywhere with funny text, but i'm not gonna give it a go to translate them since the humor would be completely gone.
I feared it was a festival with drunk people everywhere on wooden shoes but it wasn't.
Glad we came and onto next year!!!