Points System
In this post i will introduce the important Point System of Metalnewcomers.com
As you've perhaps already seen, there is a point counter directly under your number of posts.
On the following picture you can see where you can find your (and of course others) points.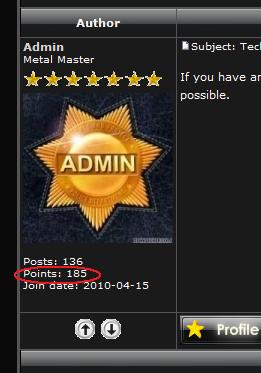 Now you are probably asking yourself: " How the hell can i earn these points?"
Well that's pretty easy, you can earn these points by posting messages, opening topics, getting friends and so on...
Posting messages gives you
+ 1 Point
( excluding posting messages in the spam category, that would be too easy

)
Opening a new Topic gives you
+ 8 Points
Getting a Friend gives you
+ 3 Points
Posting profile messages gives you
+ 1 Point
Now, don't wait: Go and grab your points